Newsletter
Links 2023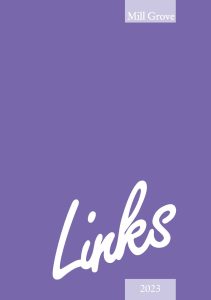 Mill Grove produces a yearly newsletter for those who are part of its extended family. This is called Links. There are copies going back to 1901.
Current issues are available on request.
Electronic copies are available on the website: see Archives.
Email: millgrove@btinternet.com
A Place For Us DVD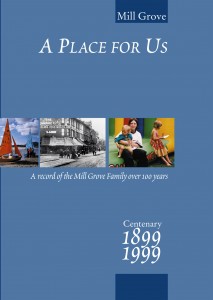 A Place For Us is a record of, and a living testimony to, God's faithfulness over 100 years: dedicated to all who have been a part of the Mill Grove community by life, giving, prayer or practical support since 1899. This DVD is a copy from the video that was produced to mark the centenary of Mill Grove. Combining historical photographic and cinematic material with video footage shot in 1999, it presents a simple record of some of the threads of a story which spanned the twentieth century. The original was offered to all who had lived at Mill Grove or who felt part of its worldwide extended family. The intention is that future generations will have access to information about aspects of their heritage and roots.
Price: £5.00
Booklet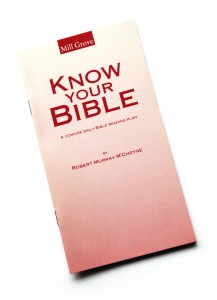 There is a Bible reading scheme, Know Your Bible, which is distributed freely as part of the ministry of Mill Grove.

Books
The Bible (Narrative) New International Reader's Version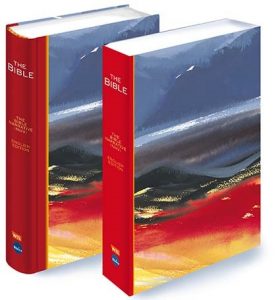 The Bible (Narrative) New International Reader's Version grew out of the family of Mill Grove. It uses a simplified translation, and presents the whole Bible in a way that is accessible to readers of all ages and backgrounds.
Single copies: Paperback £5.00, Hardback (Flexiback) £10.00.
Multiple Copies: Paperback £4.00, Hardback (Flexiback) £6.50.
Each copy comes with a FREE electronic version.
Email: millgrove@btinternet.com
This Bible is a piece of art, beautifully designed and easy to read and understand. The NIrV translation makes it perfect for the young or first-time reader or even for those with English as their second language. The text is set without interruption. The main story (the narrative) appears in simple, single-column text which allows the story to flow; and the rest of the text (lists, laws, poetry, letters, etc.) is arranged in double columns. Side notes bring clarity to the text. This Bible will compel people of all ages to read God's Word.
A radical new way of presenting the whole Bible
66 Book Introductions and Illustrations
14 maps just where you need them
Paperback, Hardback and Ebook editions
Helpful Notes Beside the Text all Through
Somebody's Son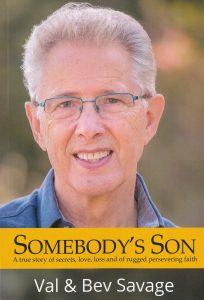 By Val & Bev Savage. A candid, tangled, fascinating detective story, lovingly researched by a wife determined that her man would find his roots and lay any family skeletons at the one place where they can be buried without bitterness, the Cross of Christ.' – Steve Brady, Principal of Moorlands College
'Reads like a novel, made more compelling because it is all true… an emotional journey that will leave you with a sense of wonder at the redeeming grace of God. – Colin Smith, Senior Pastor at The Orchard, Chicago.
Price: £7.99
Not Like Any Other Home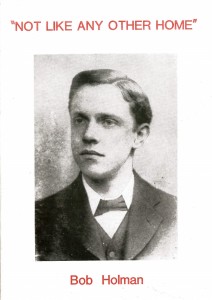 Not Like Any Other Home is a history of Mill Grove written by Dr Bob Holman.
Price: £4.95 (Currently out of stock)
My Other Family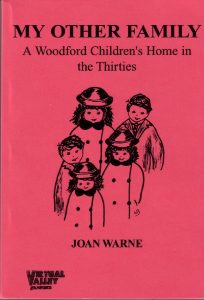 Joan Warne was born in Walthamstow in 1924, the youngest of six children. In 1924 her father's family business collapsed and they lost their home. Two years later tragedy struck: the children's mother died suddenly. Devastated their father was unable to cope and the three youngest children were received into the Children's Home and Mission (now known as Mill Grove.) My Other Family describes aspects of Children's Home life, sometimes funny, sometimes sad, as seen through the eyes of the youngest child, Joan.
Price: £8.50 + Postage.  There are a few copies still available from sue@creatingwithlight.co.uk
The Growth of Love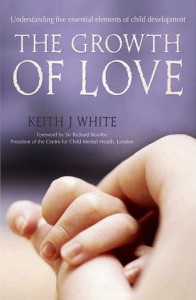 The Growth of Love, by Keith J. White, and published by Barnabas, BRF, is a reflection on the life and growth of children and young people drawing from the experience of Mill
Grove, theological reflection and the drawing together of the best associated professional insights. Price: £8.99.  Also Available on Amazon.
For all who care for children, whether in a professional or voluntary capacity, this book examines the care needed for a child to develop into mature adulthood. Keith White identifies five essential elements for child development and the growth of love. There are many insights from foster care and the resources and experience of the Christian faith. The five elements identified as essential to child development are: Security (a secure base) Boundaries (moral, consistent) Significance (identity and recognition) Community (peers, associations) Creativity (opportunities for play and making). The encouraging feature of the book is the realization that these five elements for love can be found in the most unlikely places and situations, and where they are present, in whatever form, love is able to grow.
Reflections on Living with Children – Volume One
Reflections on Living with Children – Volume One is a companion to The Growth of Love.
It comprises 100 articles from www.thetcj.org.
Published by WTL Publications. Price: £10.99.
Reflections on Living with Children paints a picture of the ground that nurtured his earlier book, The Growth of Love: Understanding Five Essential Elements of Child Development. Taken together, the two books set out what Keith has learned about what matters in living with children. They are full of stories of children and adults, of the events that shape their lives, and lead to an analysis of how to create the space in which children may be held and healed.
Reflections on Living with Children – Volume Two
Reflections on Living with Children – Volume Two.
Published by WTL Publications. Price: £10.99.
This collection of articles, written for Children Webmag over a period from 2009 to 2015, is based on the same raw material as the book The Growth of Love. The columns in Children Webmag were intended to be accessible to all who are involved with children, whether as parents, carers, teachers or pastors. For students preparing for work in social work or child care the book will provide welcome fresh descriptions of life with children, as well as a wealth of ideas and comments. There is an extensive index and many reference works are quoted.

Reflections on Living with Children – Volume Three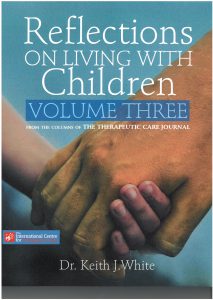 Reflections on Living with Children – Volume Three.
Published by WTL Publications. Price: £10.99.
This third collection of reflections consists of articles and reviews written for The Therapeutic Care Journal between 2015 and 2022. It uses the framework of the book, The Growth of Love (BRF, 2008), which is summarised in an Introduction by the author. They are intended to be accessible to all who are involved with children and young people, whether as parents, carers, teachers or students. There is an extensive index and many references for those wishing to do further reading or research.
Study Guide to the Growth of Love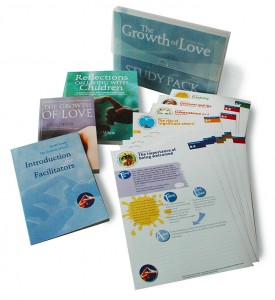 The Study Pack to The Growth of Loveoffers a fantastic
opportunity of engaging with key elements of life and faith
in a creative and reflective way. The Study Pack comprises;
– 20 study cards
– 1 copy of the book "The Growth of Love"
– 1 copy of the book "Reflections of Living with Children"
– 1 Facilitators' Guide
– 1 copy of Summary Notes
The 20 study cards cover the five key themes of the book – Security; Boundaries; Significance; Community and Creativity – as well as three introductory cards and one final card encouraging reflection on the course. The study cards are designed for use by small groups with a course facilitator. The ideal size for the groups is between 6 and 8 people.
Price per pack: £30.oo +p&p. www.thegrowthoflove.org.uk
A Short History of The Maybank Community Association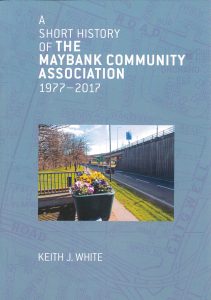 The heart-warming story of how an ordinary neighbourhood on the outskirts of East London responded to major road and motorway developments that destroyed its local pub, post office and shops and cut off its route to the nearest alternatives. Informed by careful research, it offers a model of hope to the thousands of communities worldwide whose way of life is threatened by similar developments. Remarkably, the Maybank Community Association never sought or received any funding from outside bodies: this is about local people rolling up their sleeves to see what they could do themselves.
Price: £5.00
In the Meantime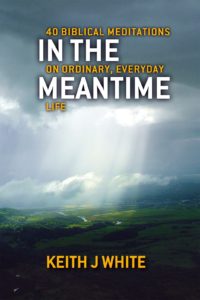 This book has a simple message: once we begin to explore the meaning of mundane, everyday life, to value it and try to understand what God might be doing and saying through it, and how we are to live each day with integrity and hope, then a whole new world begins to open up. Most of life for a Christian (or for anyone else) is ordinary, in the sense that it is made of largely routine and unexceptional actions and thought. If we pause to reflect on everyday life, we open ourselves to the realisation that there is, despite the evidence to the contrary, no part of human existence where God is not present. The Kingdom of Heaven is characterised by small things, little people, and ordinary happenings, and has very different time-spans and processes to what we expect. To glimpse it therefore requires the eyes and ears of faith in the midst of messy and unexceptional life.
There are forty meditations on passages from the Bible, organised into five sections:
– Looking back
– Doing
– Being
– Going astray
– Looking forward
– Each mediation is followed by a prayer.
Price: £10.99 plus postage.  Also Available on Amazon
Let the Earth Hear Her Voice!
The Life and Work of Pandita Ramabai
by Keith J White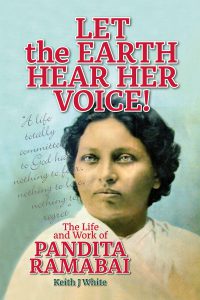 Ramabai was an extraordinary Indian Scholar, Feminist and Educator. Though still little known in the West, she was a pioneer for women's education and participation in public affairs — becoming the first woman to address the Indian National Social Congress; a widely-travelled Sanskrit scholar, despite never having a day at school or college during her childhood, and was author of several pioneering books, including The High Class Hindu Woman and The Peoples of the United States.
Ramabai was an active social reformer, recording the experiences and life-stories of hundreds of child widows for whom she pioneered a wholly new and distinctive indigenously-rooted setting for and method of education. She travelled across India and many other countries giving lectures on women's rights and she was the first woman to translate the Bible into her own language. Most remarkably for her time, Ramabai charted these paths as a widowed single woman and mother.
Hardback £29.99, Special Offer £25.00 inc. del.*
Paperback £19.99, Special Offer £16.00 inc. del.*
Website Links
www.childtheologymovement.org has papers, reports and information produced by the Child Theology Movement, which Mill Grove has supported from the outset.
www.thetcj.org is a monthly magazine written by people committed to the welfare of children. There is a column, In Residence, drawn largely from the life and experience of Mill Grove.